My Blog
Posts for: June, 2014
By Anchorage Dental Arts, LLC
June 20, 2014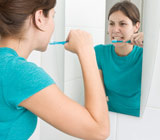 If your gums bleed when you brush your teeth, it's unlikely the cause is brushing too hard. The more common reason (especially if you're experiencing little to no pain) is periodontal (gum) disease caused by the accumulation of bacterial deposits known as dental plaque and calculus where your teeth and gums meet.
This bacterial dental plaque results in an infection in the soft tissues of the gum; the body responds to this infection with antibodies, which in turn cause the gums to become swollen, or inflamed. As this biological "war" rages on, both the infection and inflammation become chronic. The tissues are weakened from this disease process and bleed easily.
Bleeding gums, then, is an important warning sign of possible gum disease. As the infection progresses the normal attachment between the teeth and gums begins to break down and form pockets in the void. The infection will continue within these pockets, eventually spreading deeper into the gums and bone. The gum tissue may begin to recede, resulting in bone loss and, if untreated, to tooth loss.
In the early stages of the disease, bleeding gums could be the only symptom you notice. It's possible the bleeding may eventually stop, but this doesn't mean the disease has, and is more likely advancing. If you've encountered bleeding gums, you should visit us as soon as possible for a complete examination.
There's a two-pronged approach for treating gum disease. The first prong — and top priority — is to remove as much of the offending bacterial plaque and harder deposits (calculus) as possible, along with the possibility of follow-up antibacterial and antibiotic treatment. This may require more than one session, but it's necessary in stopping the disease. The second prong is instituting proper oral hygiene: daily brushing and flossing (using proper techniques we can teach you) and semi-annual professional cleanings in our office to remove any plaque or calculus not removed with brushing.
Bleeding gums is your body's way of telling you something isn't right with your gums. The sooner you seek diagnosis and treatment, the better your chances of halting the damage caused by the disease.
If you would like more information on bleeding gums as a warning sign of gum disease, please contact us or schedule an appointment for a consultation. You can also learn more about this topic by reading the Dear Doctor magazine article "Bleeding Gums."
By Anchorage Dental Arts, LLC
June 05, 2014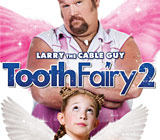 Did you know that severe tooth decay is America's #1 chronic childhood disease? Actress Brady Reiter didn't know either — until she became the star of the movie Tooth Fairy 2, and then joined forces with the National Children's Oral Health Foundation: America's ToothFairy®.
"Before, I didn't even realize what can happen to kids if they don't take care of their teeth," 11-year-old Brady recently told Dear Doctor magazine, after viewing photos of children suffering from severe tooth decay. "There are kids in America who don't know that it's important, or they just don't have the resources to be able to take care of their teeth or to go to the dentist."
This young Tooth Fairy knows just how magical — and vital to a child's self-esteem — a beautiful smile can be.
"When you feel bad about opening up your mouth and smiling, a kid's confidence just goes down the drain," she said.
NCOHF recently tapped 11-year-old Brady to head the America's ToothFairy Kids Club, which offers kids personalized letters from the Tooth Fairy along with lots of encouraging oral health tips and fun activities — free!
"I'm really excited to be part of it," Brady told Dear Doctor. "Kids learn how to take care of their of smile by joining this club. By supporting America's ToothFairy, we can help kids in need get dental care and have a healthy smile too. It's really amazing!"
While lots of kids get an occasional cavity, millions of children have tooth decay so severe that it interferes with their ability to eat, sleep, and concentrate in school. The good news is that tooth decay, a bacteria-induced infection, is preventable.
"When kids join the club, they learn how to prevent tooth decay. When families support this great cause, we can help kids in need. And that's what feels great — that we really can make kids' futures better."
If you would like to enroll your child in the club — it's free! — please visit www.AmericasToothFairyKids.org. And to make sure your child's teeth and your own are decay-free and as healthy as possible, please contact us today to schedule your next appointment.