My Blog
Posts for: September, 2014
By Anchorage Dental Arts, LLC
September 24, 2014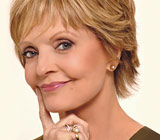 Florence Henderson, star of one of television's most beloved situation comedies, is still actively engaged in a variety of projects at 75-plus years of age. Her bright smile was part of her character as Carol Brady in The Brady Bunch, a popular sitcom that played for five seasons from 1969 to 1974. Though the show was discontinued, syndicated episodes continue to play in the U.S. and 122 other countries.
"I played Carol as the mother I always wished I had," she told Dear Doctor magazine. Her portrayal of mother and wife in a blended family with six children won her the Smithsonian Institution's TV Land Pop Culture Icon Award, which is on display in the National Museum of American History in Washington, DC.
After her successes on Broadway and in television, she was selected for numerous product endorsements, and The Wall Street Journal ranked her #5 in their top ten television endorsers based on viewer satisfaction. One of the products she endorsed was Polident, a brand of denture cleaners and adhesives. However, Henderson has revealed that she has her own natural teeth and does not wear dentures. Her advice to others who want to keep their natural teeth is to pay attention to prevention. "I think the most important thing one can do as with any health issue is prevention," she said. "Flossing, brushing, and regular dental checkups are vitally important if you want to keep your natural teeth."
When she was 22, she says, she had four impacted wisdom teeth removed at the same time. This experience made her aware of the importance of dental care, and since then she has had a checkup every six months. Wherever she travels, she says that she always has mouthwash, dental floss, toothpaste, and a toothbrush on the set.
Contact us today to schedule an appointment to discuss your questions about tooth care. You can learn more about Florence Henderson by reading the Dear Doctor magazine interview "Florence Henderson, America's Favorite TV Mom Has Many Reasons to Smile."
By Anchorage Dental Arts, LLC
September 09, 2014
Tooth decay (dental caries) is one of the world's most common infectious diseases. Left untreated, it can lead to tooth loss. The best treatment strategy, of course, is to prevent it from occurring in the first place with a long-term approach that begins in early childhood and continues throughout our lifetime.
Here are some basic components for just such a prevention strategy.
Know your risk. We each don't share the same level of risk for tooth decay, so it's important to come to terms with any factors that raise your personal risk for the disease — your dental history, inadequate oral hygiene, absence of fluoride use, and lifestyle habits like smoking. Coming to terms with these and other factors — and altering those you can change — can lower your risk.
Reduce acid-producing bacteria in your mouth. Tooth decay usually arises from elevated acidic levels in the mouth caused by certain strains of oral bacteria. You can reduce these bacteria by removing plaque, a thin film of food particles that collect on tooth surfaces, with daily oral hygiene and regular cleanings in our office. In some cases, we may also recommend antibacterial mouthrinses like chlorhexidine to further lower the bacterial population.
Apply protective measures to teeth. Fluoride, a naturally occurring chemical, has been proven effective in strengthening tooth enamel and reducing tooth decay. In addition to fluoride found in many oral hygiene products and public water systems, children can also benefit from a direct application of fluoride to the enamel surface just after the teeth have erupted in the mouth. Many clinical studies have shown 99% cavity free results in over a thousand teeth receiving a fluoride application with sealants.
Control your diet. Bacteria ferment leftover sugars and other carbohydrates in the mouth; this creates acid, which can soften tooth enamel and lead to decay. You can limit this effect by eating more fresh fruits and vegetables and reducing your consumption of refined sugar. You should also limit between meal snacking — constant snacking prevents saliva, the mouth's natural acid neutralizer, from effectively restoring the mouth's pH balance.
A prevention strategy for tooth decay will help you avoid unnecessary pain and problems — physically and financially. You'll also reap the rewards that come from a lifetime of good dental health.
If you would like more information on preventing tooth decay, please contact us or schedule an appointment for a consultation. You can also learn more about this topic by reading the Dear Doctor magazine article "Tooth Decay."