My Blog
Posts for: December, 2017
By Anchorage Dental Arts, LLC
December 29, 2017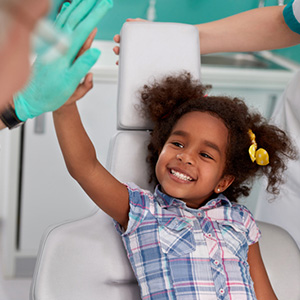 As a parent you want your child to have the best possible start in life. One of the greatest gifts you can provide them is a positive experience in dental care—especially visiting the dentist.
Unfortunately, not all children are so lucky. Visiting the dentist for them is foreign and forbidding; it leaves such a negative impression they may avoid the dentist later in life even when faced with acute problems.
It doesn't have to be like that. Here are 3 ways you can help your child have a great experience at the dentist.
Start dental visits early. The best time to begin dental visits is before your child's first birthday as their teeth begin to erupt. Dental diseases like tooth decay can begin as early as two months so it's vital to detect any problems as soon as possible. Establishing an early relationship with your child's dentist benefits you too with helpful tips and advice from them on dental care at home. And, children visiting the dentist early are more likely to become accustomed to it as a routine part of life, and more likely to continue the habit on their own.
Find the right dentist. The right dental practice can make all the difference in the world for your child's comfort level. Parents often choose a pediatric dentist who specializes not only in dental care for children and adolescents but in how to engage with them and put them at ease. The key, though, is to find a dentist and staff who work well with children and understand how to make them feel at home in their office.
Display a positive attitude. You've probably already noticed how your child picks up on your feelings in different situations—which often affect how they feel and act too. So be sure when you visit the dentist with them you have a positive, proactive attitude, ready to partner with their provider in treatment and prevention measures. And above all display a calm and relaxed manner: your child will be more apt to follow your cue and relax too.
If you would like more information on providing great dental care for your child, please contact us or schedule an appointment for a consultation. You can also learn more about this topic by reading the Dear Doctor magazine article "Taking the Stress out of Dentistry for Kids."
By Anchorage Dental Arts, LLC
December 14, 2017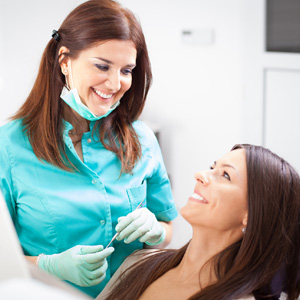 While it may not be one of your favorite features in the dental office, the dental drill is nevertheless necessary for treating problem teeth. It's used primarily for removing decayed or damaged structure and preparing a tooth for fillings or other restorations.
Dental drills have been used for decades and are quite effective — but they have their drawbacks. Their rotating burrs often remove portions of healthy tooth structure along with decayed material. Friction from the drill action can cause discomfort, so local anesthesia is usually needed. Drills can also emit a high-pitched machine noise that's unsettling to many patients.
There's a growing alternative to the drill, known as air abrasion. Although the technology has been around since the 1950s, the development of new suction pumps that capture the resulting dust from its use has made it more palatable as an option to the traditional drill.
Also known as particle abrasion, the technique uses a pressurized stream of fine particles (usually aluminum oxide, an abrasive powder) directed at teeth to wear away (abrade) the tooth's structural surface. We can be quite precise in the amount of surface material removed, so it's useful for diminishing stains or roughing the surface for bonding materials like composite resin. We're also able to remove decayed material with very little impact on surrounding healthy structure, and you may not need anesthesia during the procedure.
While this quiet alternative to the noisier drill is quite versatile, it does have its limitations. It's not that efficient for preparing larger cavities for restoration or for removing older amalgam fillings. The teeth to be treated must be carefully isolated to prevent the fine particle dust produced from being swallowed by the patient or spread into the air. High-volume suction equipment is a must or the procedure will create a "sandstorm" of particles in the room.
Still, for situations suited to it and with proper isolation measures, air abrasion can be effective and comfortable. If the technology continues to improve, the dental drill may soon become a relic of the past.
If you would like more information on procedures using air abrasion, please contact us or schedule an appointment for a consultation. You can also learn more about this topic by reading the Dear Doctor magazine article "Air Abrasion Technology."