My Blog
Posts for tag: dental implants
By Anchorage Dental Arts, LLC
December 29, 2014
Find out which cosmetic treatments can give you the smile you've always dreamed of.
Everyone wants to have the perfect smile; however, unless you are one of the rare and lucky few you probably have some annoying problems that keep you from the smile you truly want; however, you don't have to reserve yourself to the fact that your smile will
always be just a little imperfect. In fact, when you see your Anchorage, AK dentist you can choose from a variety of different cosmetic dentistry from non-invasive to more complex. We have something to cater to every patient's needs, budget and lifestyle. Here is what your Anchorage cosmetic dentist can do for you.
Teeth Whitening
If you want to get a brighter smile before the New Year's ball drops, it isn't too late. While over-the-counter products may take weeks to show visible results, our in-office professional whitening system can get your smile several shades whiter in only one session. The results are instant and you don't have to fool around with messy trays and gels night after night.
Dental veneers
If you want to get a Hollywood smile then dental veneers can certainly offer that brighter, straighter smile. While it might not get you your own sitcom these thin pieces of porcelain can hide stains, chips, cracks, and misshapen teeth, as well as minor overlapping or gaps between teeth. The procedure is minimally invasive and only requires minor tooth prep before putting the veneers on.
Dental implants
If you've been seeking a permanent way to replace your missing tooth or teeth, and are tired of slipping and clicking sounds coming from your dentures, then dental implants in Anchorage, AK can restore your smile. While the process does take months, the results are incomparable.
For this procedure, a small metal implant is placed into the bone where your missing tooth once was. After a few months, the surrounding tissue will fuse and bond with the implant to create a sturdy foundation from which we will place a dental crown. Implants were designed to last you a lifetime and with the proper care, you could have this natural-looking tooth for the rest of your life.
If you are interested in getting cosmetic dentistry in Anchorage, AK then give us a call to schedule a consultation. We can sit down together and discuss what options are best for you! Let's get you a new smile to welcome in a New Year!
By Anchorage Dental Arts, LLC
October 20, 2014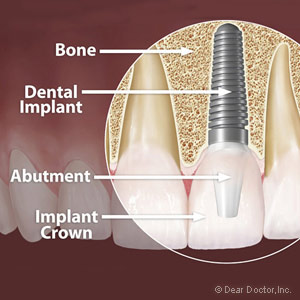 Dental implants are considered the premier option for tooth replacement. While all implant procedures follow the same general concept — a titanium post surgically inserted into the jawbone with an attached life-like crown — the installation process can vary.
From their earliest history, implants have usually been installed through a two-stage process. In the first stage, the surgeon inserts the titanium post in the bone and leaves it "submerged" below the gum level to protect it from oral bacteria and the effects of chewing and biting. About three months later after the bone attaches to the titanium (a process called osseointegration), the surgeon then performs the second stage by re-exposing the implant and attaching a temporary abutment and crown for the patient to wear while the permanent abutment and crown are fabricated and later attached in 2-6 weeks.
In recent years, advancements in materials and design have made possible a one-stage process that allows the implant to protrude above the gum line during osseointegration and shortens the process. After the initial three-month healing period, the implant is ready for "loading" with the permanent crown.
The choice between which of these two procedures should be used for your implants will first depend on the type of tooth being replaced. A front tooth benefits from the one-stage procedure for cosmetic reasons because the surgeon can install a temporary crown to the exposed abutment during osseointegration (as long as the temporary tooth isn't in functional contact with other teeth). An implant for a back tooth, on the other hand, doesn't have a large cosmetic demand so those one stage procedures usually end up with an exposed healing abutment but no temporary crown.
The strength of the bone is also a factor. Some bone tends to be softer, particularly in the back of the mouth. There's a chance the implant could move in this softer bone, adversely affecting the outcome. For this reason, the two-stage procedure can be the preferred approach for posterior teeth as it offers more protection from movement.
You can be sure we'll consider all these and other factors during your initial examination, and then advise you on the best approach. Above all, we want to make sure — whether a one-stage or a two-stage implant process — the result is a smile you can be proud of.
If you would like more information on dental implants, please contact us or schedule an appointment for a consultation. You can also learn more about this topic by reading the Dear Doctor magazine article "Staging Surgery in Implant Dentistry."