My Blog
Posts for tag: periodontal disease
By Anchorage Dental Arts, LLC
April 17, 2017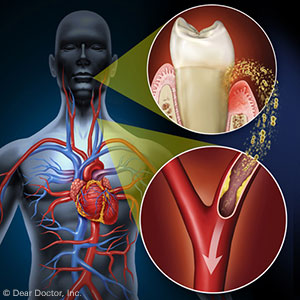 If you have periodontal (gum) disease, it's important for you to know its effects aren't limited to your mouth. A number of studies demonstrate gum disease can affect the rest of your body — and what may be going on elsewhere could likewise stimulate gum disease.
Here are 3 diseases or conditions that seem to share a link with gum disease.
Diabetes. This chronic disease results from the body's inability to interact properly with insulin, the hormone necessary for turning glucose (sugar) into energy, or producing enough of it. There's clear evidence that having diabetes increases your risk of gum disease and vice-versa. If you have diabetes, it's important that you keep it under control for your gum's sake as much as for your overall health.
Cardiovascular disease. Like diabetes, this group of heart and blood vessel diseases has a related characteristic with gum disease: inflammation. This natural function of the immune system limits tissue damage caused by disease or injury. But in both CVD and gum disease, inflammation can become chronic and itself cause damage. Further, some types of bacteria associated with gum disease can contribute to a higher risk of CVD. Minimizing gum disease occurrence with good oral hygiene could positively impact your risk of CVD.
Pregnancy. While certainly not a disease, pregnancy does trigger hormonal changes in the mother that in turn could elevate her risk of gum disease, particularly pregnancy gingivitis. Not only does this pose problems for the mother's teeth and gums, some studies connect gum disease to the increased possibility of early, pre-term birth. A sharper focus on dental care during pregnancy not only benefits the mother but may also be important for the health of the baby.
These aren't the only conditions that can be affected by gum disease: others like osteoporosis, respiratory disease or rheumatoid arthritis also share links with the disease. If you have any systemic condition like these, it pays to be extra vigilant in preventing and treating gum disease.
If you would like more information on periodontal (gum) disease, please contact us or schedule an appointment for a consultation. You can also learn more about this topic by reading the Dear Doctor magazine article "Good Oral Health Leads to Better Health Overall."
By Anchorage Dental Arts, LLC
June 20, 2014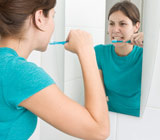 If your gums bleed when you brush your teeth, it's unlikely the cause is brushing too hard. The more common reason (especially if you're experiencing little to no pain) is periodontal (gum) disease caused by the accumulation of bacterial deposits known as dental plaque and calculus where your teeth and gums meet.
This bacterial dental plaque results in an infection in the soft tissues of the gum; the body responds to this infection with antibodies, which in turn cause the gums to become swollen, or inflamed. As this biological "war" rages on, both the infection and inflammation become chronic. The tissues are weakened from this disease process and bleed easily.
Bleeding gums, then, is an important warning sign of possible gum disease. As the infection progresses the normal attachment between the teeth and gums begins to break down and form pockets in the void. The infection will continue within these pockets, eventually spreading deeper into the gums and bone. The gum tissue may begin to recede, resulting in bone loss and, if untreated, to tooth loss.
In the early stages of the disease, bleeding gums could be the only symptom you notice. It's possible the bleeding may eventually stop, but this doesn't mean the disease has, and is more likely advancing. If you've encountered bleeding gums, you should visit us as soon as possible for a complete examination.
There's a two-pronged approach for treating gum disease. The first prong — and top priority — is to remove as much of the offending bacterial plaque and harder deposits (calculus) as possible, along with the possibility of follow-up antibacterial and antibiotic treatment. This may require more than one session, but it's necessary in stopping the disease. The second prong is instituting proper oral hygiene: daily brushing and flossing (using proper techniques we can teach you) and semi-annual professional cleanings in our office to remove any plaque or calculus not removed with brushing.
Bleeding gums is your body's way of telling you something isn't right with your gums. The sooner you seek diagnosis and treatment, the better your chances of halting the damage caused by the disease.
If you would like more information on bleeding gums as a warning sign of gum disease, please contact us or schedule an appointment for a consultation. You can also learn more about this topic by reading the Dear Doctor magazine article "Bleeding Gums."
By Anchorage Dental Arts, LLC
March 27, 2014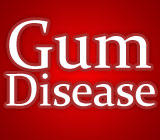 You've been doing "all the right things" — brushing, flossing, and keeping up regular office cleanings and checkups. But you're still struggling with gum disease — in fact, you've recently noticed loose teeth and other signs of infection.
While the primary cause of gum disease is dental plaque and calculus not adequately removed by regular oral hygiene and cleanings, you may also be among a small group of individuals with other risk factors that can worsen the effects of the disease. One of the most common of these factors isn't something you can do much about — the physical characteristics you inherited from your parents. In reality, some people are more genetically prone to disease than others because their body doesn't respond effectively to certain bacteria.
Chronic stress may also play a role in your body's resistance level: it can both increase your risk for the disease and magnify its effects. In addition, the type of bacteria causing the disease could be a factor — our mouths contain thousands of strains, with some bacteria more difficult to control than others.
If your gum disease persists regardless of all our best efforts, we may be able to test for whether any of these other factors are involved. Determining the presence of any of these underlying factors can help us fine-tune our treatment approach.
You should know, however, that it might not be possible to effectively address every factor involved. If that's the case, at some point it may be necessary to consider a tooth replacement option. The best choice by far are dental implants — not only are they functional and life-like in appearance, with proper care they could foster a healthier environment in your mouth by being stronger and more durable than the diseased teeth they've replaced.
Our ultimate goal as dentists is to alleviate gum disease and restore health and function to your teeth and gums. If that isn't completely possible due to uncontrollable factors, we then adopt a strategy to control the disease as much as possible to preserve your teeth for as long as is prudent. This can give you time, then, to prepare yourself mentally, emotionally and financially for future teeth replacement and restoration.
If you would like more information on periodontal disease, please contact us or schedule an appointment for a consultation. You can also learn more about this topic by reading the Dear Doctor magazine article "Periodontal (Gum) Treatment and Expectations."